Weatherford, Texas – The United States Team Penning Association, Inc. ("USTPA") today announced that it has received the Official USTPA Trailer from Cowboy Trailer Sales of Crockett, Texas.
The new USTPA trailer will hit the road as soon as possible in support of USTPA World Championship Series shows and USTPA Regional Finals shows, as well as several USTPA-sanctioned shows. The trailer was purpose-built by Merhow Industries and its use is provided at no charge to the USTPA by Cowboy Trailer Sales as a part of their larger corporate sponsorship of the USTPA.
The trailer was designed by Merhow and Cowboy Trailer Sales in coordination with the USTPA and will carry the USTPA show equipment to events across the United States and into Canada. The Official USTPA Trailer will also serve as the backdrop for official event photography.
Once delivered the trailer had a custom wrap applied to promote the USTPA, the sports of Team Penning and Ranch Sorting and all the great sponsors that made it happen. The wrap was designed by Brad Godwin with V2R Design of Katy, Texas.
In additIon to the primary trailer provider, Cowboy Trailer Sales, the USTPA would like to thank the following sponsors for making the custom-designed trailer wrap possible:
Wild Gold Omega3 Camelina Oil Equine, Pet & Human; 7M Cattle Feeders; Stillwater Equine Veterinary Services; Iconoclast Equine Support Boots; Jeys Saddlery; Trademarks Promotional Products; Legend Tack and Silver; LS Performance Horses; WJ Cow Horses; DJ Cow Horses; Jared Lesh Cowhorses; Keith Boyz Cowhorses; Sodrel Cowhorses; JR Productions; TR Performance Horses; Diamond B Performance Horses and Tack & Diamond B Arena & Restaurant; TLR Performance Horses.
 "The USTPA is looking forward to having such an exciting traveling billboard that not only protects and delivers our show equipment to events around the country, but doing so while also promoting our sport and our many corporate partners", commented USTPA President, Noah Sodrel.
 Currently the first USTPA World Championship Series show that will feature the Official USTPA Trailer is the Mile-High Shootout June 26-28 in Loveland, Colorado.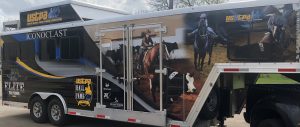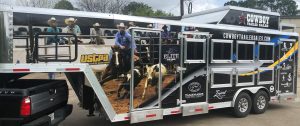 About the USTPA. The United States Team Penning Association is a National Governing Body for the sports of Team Penning and Ranch Sorting. The USTPA was formed as a non-profit association in 1993 to promote Team Penning and Ranch Sorting across the United States and internationally, with standardized rules and a rider rating system designed to provide fair competition for beginners to experienced riders.